Key Components of a Great Blog Post

By now, you've probably come to recognize the value of relevant, interesting content for your readers on a regular basis. A blog is the perfect avenue for handling this…basically a new, search engine optimized page created every time you post. Sounds great in principle, but most groups overlook the basics.
I'm not saying it's guaranteed or easy, but commit to these rules and you'll be on your way. 
Come up with a great title
Keep it natural, but watch your grammar
Using visuals and multimedia
Link building
Calls to action
Here are some key blog components for inbound marketing:
1. The title matters…a lot
This is what everyone sees first…make it good. It's got to be interesting and captivating enough to draw some attention. It also should clearly indicate what the heck you're talking about…no misleading sales pitches or car salesmen clichés. Try to be clear and honest…tapping into what you know about your target audience. What are their concerns, problems, pain points?
2. Keep it natural, but use proper grammar and formatting
Your blog shouldn't sound like a legal document. Keep it natural and speak the language of your audience, but get the grammar and punctuation right. Make sure there aren't any silly mistakes that could have been easily discovered with a simple proofread.
Break things up into easily digestible sections. Nobody wants to read War and Peace, so don't give it to them.
3. Using images and visual aids
Shoot for at least one good supporting image or infographic per blog post. Here's a chart that doesn't show anything, but visual aids break up the monotony of a page full of text. Think of photos, videos or slideshow presentations that can support whatever you're writing about.
4. Give 'em some direction…include some links
Don't over do it, but adding a link or two per paragraph is definitely a best practice. External links refer to other websites that might support your stance or where you researched material.
Google (there's an external link) likes external links because connecting with other websites generally shows that you've done some homework in researching and composing your content. This can also help with building connections online.
Internal links send readers to other areas of your own website. For instance, if someone is reading this article about blogging, they might also be interested in checking out our Search Engine Optimization ebook. Here's a link for them to do that: Quick and Easy Guide How to SEO.
With internal links, consider the "anchor text" that you use. Notice in our link, we used the name of the book itself instead of the old school "click here". Google recognizes good anchor text as a more relevant and useful link.
5. Always have a compelling call-to-action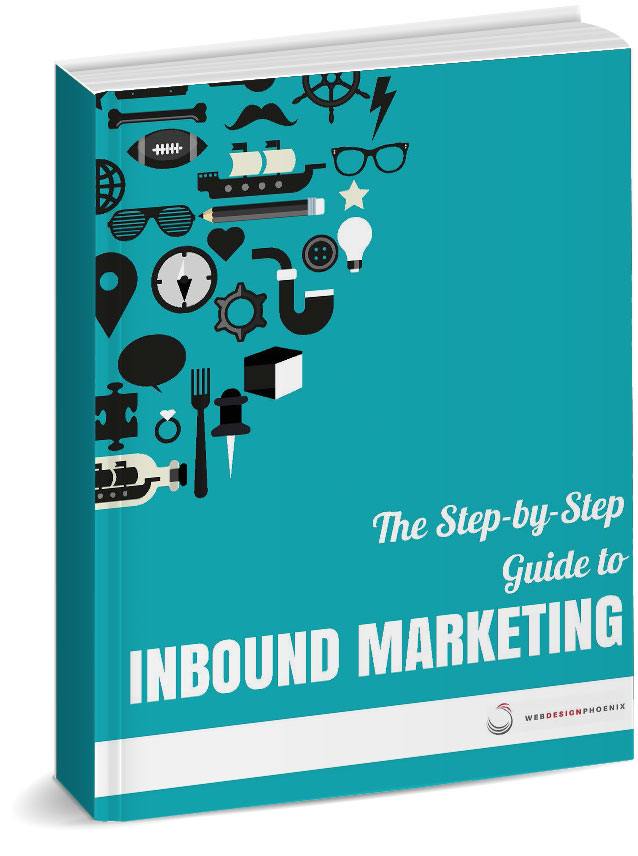 If readers actually likes what you're writing about, and they want more, give it to them.Don't write an entire page of content only to conclude with a dead end. Your call-to-action should be compelling enough to draw clicks, and the result should actually deliver value for the reader. No fakeouts.
For example, this blog post represents only a small sliver of our 45-page ebook all about inbound marketing. Anyone who would like to learn all the steps for creating a solid inbound marketing process can click the call to action button below, or on the image to the right.
A call-to-action is where the conversion process happens…you're giving some genuinely helpful information away. In return, you learn about the interests, likes & dislikes of your audience.
Keep your blog posts concise and interesting. Write about things that people actually want to learn about…not how great your company is. Keep things natural and don't use too much industry jargon.
Follow these basic rules with every post and your blog will pick up steam in no time.
If there's anything you're curious about, we'll gladly address it. Leave some comments below or reach out to us any time to talk things over.
https://www.webdesign-phoenix.com/wp-content/uploads/2017/09/blog-components-for-inbound-marketing-in-phoenix.jpg
837
1200
Casey Bourque
https://www.webdesign-phoenix.com/wp-content/uploads/2020/03/phoenixwebdesign.svg
Casey Bourque
2017-03-18 18:48:39
2020-09-08 17:38:23
Key Components of a Great Blog Post